Where's My Stuff?
If you are a returning user, rest assured, all of the content you've created in the past such as courses, collections, and assessments are still completely accessible and editable under your personal library page.

How do I download class data from Archived Classrooms?
If you had classrooms from previous school years, they've been archived and you can find them under Archived Classrooms on your homepage. All of your classroom data can be downloaded as a zip package and when extracted, you will find your class data in spreadsheet format. You won't be able to edit any of the classroom information such as the students in the classroom, the content they've been assigned etc. Students will not be able to join these archived classrooms using a Classroom Code. They have retired; let them enjoy their downtime, and create new classrooms for the 2016-2017 school year.
To request and download class data report, please login to Gooru and follow the steps bellow.
The downloaded file is in a .zip format. Please extract the files out and open the individual .csv files to view the data.

Ready to create a new classroom? Please follow the Sample Walkthrough in the next section.
A Sample Walkthrough
This walkthrough assumes you have a course from previous school year and want to reuse it in a new classroom for this school year.
1. Click on the Gooru logo on the upper left corner to go to your homepage.
2. Click on the Create Classroom button to start a new classroom.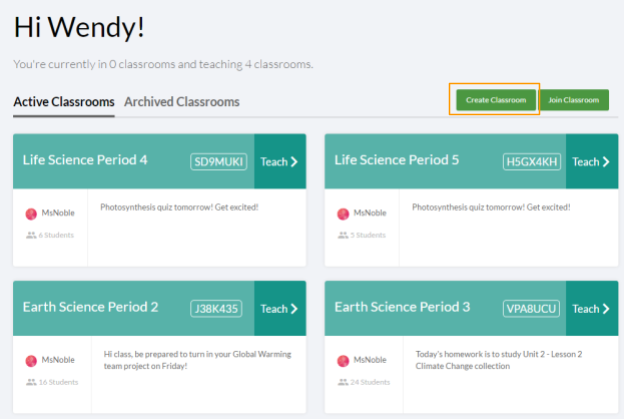 3. Enter your classroom name and click Create to get started on your new classroom.
4. Click on Choose Course to add a course from your library to your classroom.
5. Select the course you want to add and click Assign.
6. After assigning a course to your classroom, you will arrive at the Course Map page where you can review and edit your course content. You can navigate to the Classroom Information page to edit or add announcements to your classroom. When your classroom is ready, share the Classroom Code with your students so they can join your Classroom.
Did you find this article helpful?