How do I share my content with others?
The easiest way to share your content with others is to let them access your profile library and remix your content. For others to see your content in your profile library, your content needs to have Content Visibility set to On.

How do I set Content Visibility?
To check or set this setting, open your content in the editor and scroll down to the Settings section. Click on the switch to turn it On.

How do I share my profile with others?
There are two ways to share your profile with others.
Method A:
Click on your username on the upper right corner. Copy the link in the browser bar and share it with others.
Method B:
Share this link www.gooru.org/username and replace username with your Gooru username.
For example: http://www.gooru.org/DrNoble

How do other people remix my content?
Other people will need to copy and paste the link you shared into their browser bar. Then they can browse your library of Courses, Collections, Assessments, Resources, and Questions. For Collections, Assessments, and Questions, they will click on the Remix button to copy and save the content to their own accounts. For Resources and Questions, they will click on the Add To button to directly add a resource or question to their own Collections or Assessments. For people who remix your content, and for people whose content you remix, click Follow to bookmark this user so you can return to their profile easily.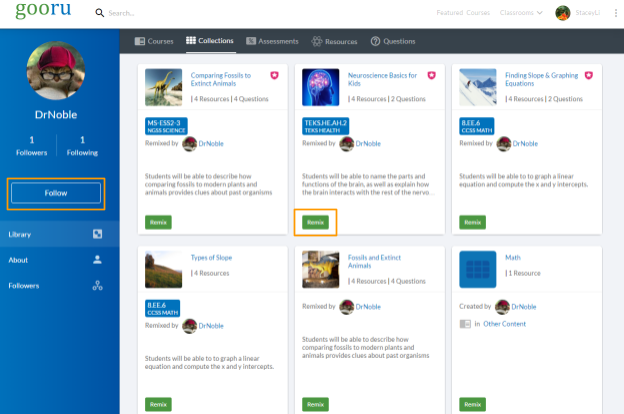 Did you find this article helpful?