How do I assign Daily Class Activities to my classroom?
Daily Class Activities enables you to assign collections or assessments you want your students to complete for that day. Assessments under the Daily Class Activities can be launched in real time to assess student understanding.
To assign an assessment or collection to your Daily Class Activities, you'll need to have a classroom already set up. If you don't have one yet, please create a
classroom first
.
In your classroom, select the Daily Class Activities tab.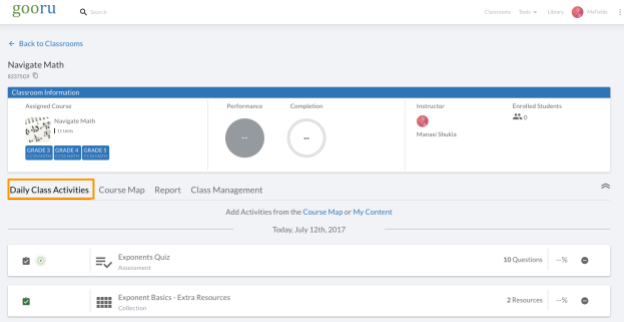 Select if you want to add add activities from your Course Map or from your Content. The collections and assessments you add will be visible only for that day.

Add activities from your Course Map
To add activities from your Course Map, click on the plus sign next to the collection or assessment.
Add activities from your Content
Access your content under your profile. Select the content you want to add and click the plus to add it and then select the classroom you want to add it to.
Assigning Content to Students
Once you have added the collections and assessments to the daily class activities, click on the clipboard sign on the page to assign them to your students (it will turn green).
Data
In Daily Class Activities performance data is available for that day.
Once students complete a collection or assessment in the Daily Class Activities, they can view their performance only on the collection or assessment's summary page. Once students exit out of the collection or assessment summary page, they can no longer view their performance data.
Teachers can view the student performance data by launching the Go Live button for that assessment. If the assessment is launched using the Go Live button, the performance data will be visible in real-time. Here is an article on how to launch assessments in real-time using
Go Live
.
Teachers can also view student performance if students complete assessments at their own pace. Teachers can use the Go Live button to launch the dashboard to see how students responded.
Did you find this article helpful?