How do I create a Course?
Anyone with a Learning Navigator account can create courses. To create a new course, login to the Learning Navigator and follow the steps below.
1. Click on your username in the upper right-hand corner to go to your profile.
2. Click on My Content in the left menu. Click on the Create button on top navigation bar, then select Course from the dropdown menu.
3. Enter the Course Title, select a Category, then click the Create button.
Edit the course information, add units and lessons, and turn on profile visibility on this page.
Information Tab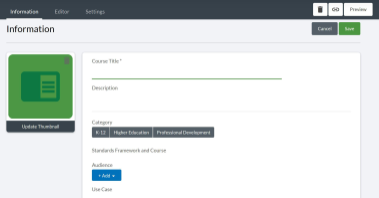 Click on Update Thumbnail and select an an appropriate image from your computer. Click on the trash bin icon in the upper righthand corner of the thumbnail to delete the thumbnail.

Edit the Course Title and add a Description.

Update the Category.

Select a Subject and Standard.

Select who the Audience will be.

Enter a Use Case.

Click the Save button.
Editor Tab
Click on the Editor tab or scroll down to see the Editor section.
Create A Unit
Click on +Create New Unit or the + button to create a new unit.

Enter a Unit Title, Big Ideas, and Essential Questions.

Add Domain(s) and click the Save button. You can create as many units as needed.
Create A Lesson
Click the Unit title or + button.

Enter a Lesson Title.

Click the Save button. You can add as many lessons to a Unit as needed.
Settings Tab
This setting makes your content visible via your user profile. If you wish to share the courses, collections, assessments, resources, and/or questions you create with colleagues, we suggest you turn this feature on.
Click on the Settings tab or scroll down to see the Settings section.

Click the Off button to turn on visibility to your content.
Editor Icon Reference Chart
You have created your Course, Unit, and Lesson shell. Next step is to add Collections or Assessments to the Course. Click on the Lesson title bar, then click on one of the green buttons to add a Collection or Assessment to the Lesson.
Did you find this article helpful?