How do I edit a collection?
Once you've remixed a collection or created one of your own, you can edit and personalize it to meet the needs of your students.
You can:
Edit the collection's image, title, and standards

Add new resources and questions

Reorder resources

Copy resources to other collections

Add guiding narrations to each resource
To edit your collections, navigate to your content and find the collection you would like to work on.
1. Click Edit on the Collection card to open the editor.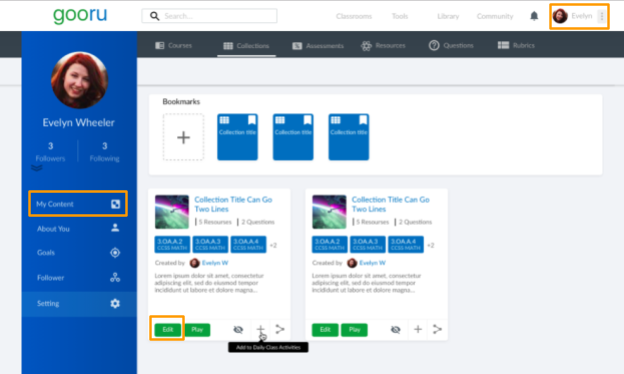 2. To make any edits to collection information, click on the Edit button to get started. Change the collection cover image by clicking Update Thumbnail and select an image from your computer. Select a subject for your collection and tag to standards. Click Save to save all your changes.
3. On the Editor section, you may add additional resource by clicking on +New Resource, +New Question, or the + button. You can reorder the resources and questions. Use the icon definition chart below to help you navigate around the editor.
Editor Icon Reference Chart
Did you find this article helpful?