How do I customize Assessment settings?
As a teacher, you can manage your "Assessment Settings" to control how students access and navigate through the assessments you assign to them. You can restrict navigation, set maximum attempts, and enable/disable showing the answer key for your assessments.

1. From the Profile page, click the Assessment tab > click Edit to open the Assessment Editor.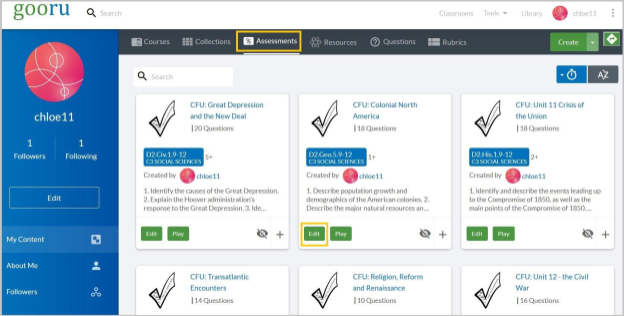 2. Click Settings or scroll down to the Settings section.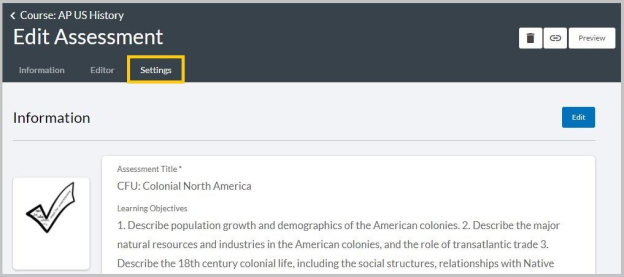 Navigation
On

–

Students are allowed to navigate backwards and change responses

.

The score calculates their latest response. Students can

go forward and skip questions.

Off

–

Students can navigate forward only, not allowing them to skip questions.
Scoring
Choose whether students can see their responses to questions are correct or incorrect in one of three ways:
Per Question and At the End (Students immediately see "You are correct!" on the question)

At the End only (Students can see their answers to each question at the end)

Never (Students do not see their answers to questions)
Answer Key
On

–

Students are allowed to see the answer key on the summary reports.

Off

–

Students do not see the answer key.
Attempts
Set the number of attempts students are allowed to take this assessment. The accepted values are 1-10 and Unlimited.
Content Visibility
On

–

This assessment is visible to everyone who visits your profile library.

Off

–

This assessment is private and only visible to you.
Did you find this article helpful?